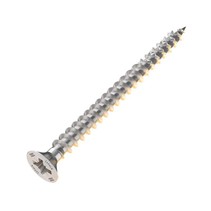 €0,19
In stock (ordered before 18.00 is delivered tomorrow)
Heco Screws,
Quote of Heco itself, we have found our way ..
NOTE TISA DELIVERS THE TOTAL RANGE OF HECO, So if you can not find something (the assorted. Is in fact too many big so for now everything is not finished yet) we can supply it with 1 or 2 days. So email or call us we will help you ..
A screw is only a small piece of metal.
But a large piece of safety. We stabbing our whole knowledge and skills in this little piece of metal, so that your world a little more reliable. At home, in the car, in the sport, and even in politics.
The company HECO-Schrauben has grown slowly and healthy in about 125 years. Nowadays, they are one of the main screw manufacturers in Germany. However, the company is just like previously imbued with the values ​​that the founder Karl Hettich had a high priority: a wealth of ideas, diligence and quality awareness.
They are highly innovative, but while always remained authentic. Therefore, you may in the future expectations of the HECO brand. The employees are now developing new solutions for all the requirements that will enable the mounting technique over several years on our products. Consider the best. For we have found our turn they say.